Route 30 detour 7/6/22 to 28/6/22
Due to roadworks, Myers St will be closed between Humble St and Boundary Rd from 7/6/22 to 28/6/22
Route 30 – Geelong to St Albans Park via Newcomb  will be required to divert via Humble St, McKillop St and Boundary Rd to Charles St as shown by the blue line in the map below.
The following bus stops will not be serviced during the road closure, and are marked with an x on the map.
Outbound – from Geelong
Paterson St – stop 30320
Boundary Rd – stop 30321
Bendle St – stop 30322
Inbound – to Geelong
Boundary Rd – stop 30340
Paterson St – 30341
Humble St – 30343
Temporary stops are located in McKillop St near Boundary Rd, and in Humble St near corner of Myers St as shown by the purple bus icons.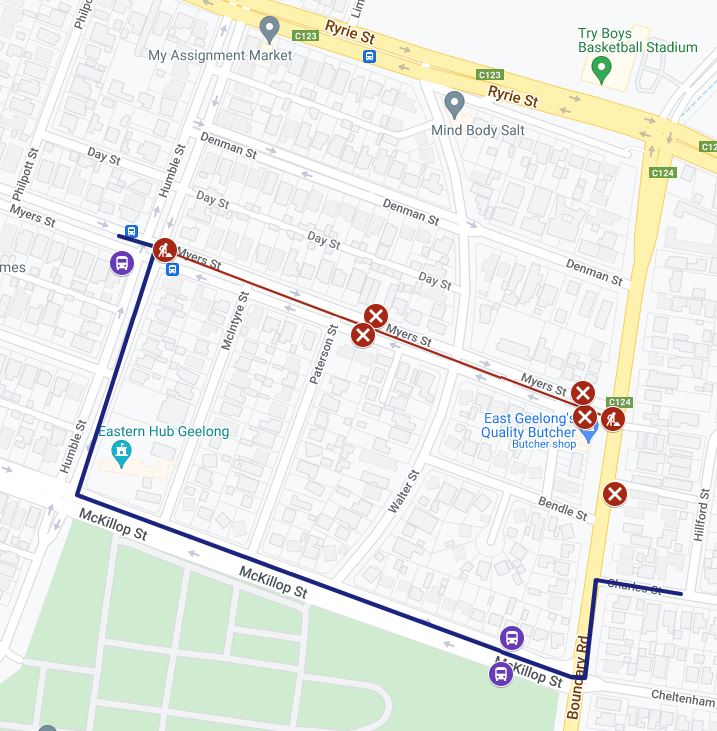 For further updates about these works, please return to this page.